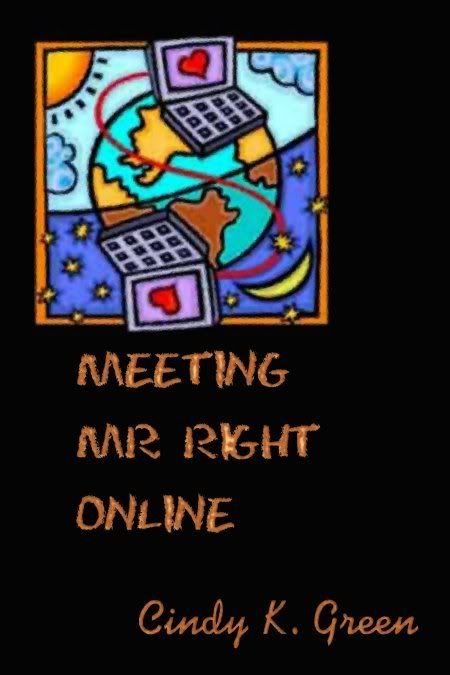 Today I'm talking with Cindy K. Green, author of
Meeting Mr. Right Online
, recently released from
By Grace Publishing
.
Cindy, what else have you written?
Actually, I have a long list of titles. By the end of 2008, I'll have ten releases to my name. With the Wild Rose Press, I've written a couple Inspirationals: my full-length novel, A Funny Thing Happened on the Way to Your Wedding; a short story,

Relationship Rescue

; and a short Historical novella,

Dilemma of the Heart

. At The Wild Rose Press, you can also find my romantic suspense NovelTea Series. Book #1 (A Night of NovelTea) is available now and Book #2 (

NovelTea Next Door

) releases July 30th. From By Grace Publishing, I have several sweet, Inspirational, and even sensual books available including my newest release, Meeting Mr. Right Online, a sweet chicklit novella.
Do you think there are any similarities between your writing and Ms. Russell's?
Yes, I definitely do. In fact, at one time, we both named a character Grace Ryan (which became the heroine in Kara's

Saving Gracie

). I've been very fortunate to have met Ms. Russell both as a colleague and a friend. We share similar tastes in reading and writing and in that way are able to help and encourage each other. It's important to have a critique partner who 'get's' you and 'get's' your writing. I've been blessed in having that in Kara Russell.
You and Kara are sometimes critique partners. Have you read any of "Enduring Hope," the next Orchard Hill story to be released? And if so, what did you think about it? I only ask because I want to make sure Ms. Russell got the details right.
I have read some of

Enduring Hope

and look forward to reading the completed version. Hope and Oliver are a fun pair. They seem like complete opposites, but in time you find they do have more in common than originally thought. Ms. Russell always brings something new and fun to each story. I'm always amazed at how varied she is at bringing to life a new couple for us to follow.
Do you have any favorite characters from Orchard Hill?
Gracie and Riley from the first book will always be a favorite. But I can't wait for everyone to meet David, Sarah and Charity in

Accepting Charity

which comes out in August. Great story with fun twists.
What are you working on now?
I'm working on a new Inspirational called

Romancing Miss Abbot

. This book is a romantic comedy as well as Inspirational. Let's just say that the hero and heroine in this story have a colliding first meeting which ends in him getting a bloody nose. I'm also polishing up a high fantasy romance called

The Princess and the Outlaw

. And I hope to finish my full-length historical,

Redemption of the Heart

which is the sequel to

Dilemma of the Heart

.
Who do you think will win the matchmaker's challenge, Pansy or Misty?
Oooh that's hard to say. They are both doing very well in this contest. It may end up with inconclusive results. ;) aka: a tie!
You can visit Cindy on the web at
cindykgreen.com
to find out more about her and her wonderful books. And watch for the short story "The Thing About Temping" to appear soon in the
Free Reads
section of The Wild Rose Press.